JWT Pressure Plate & Stillen Flywheel
by Shell Black
---
Here are some pictures of the Jim Wolf Technology Pressure Plate. A great looking piece! The best part about this piece is that you will get a decent life out of your OEM clutch disk with much better clamping force. The Pressure Plate, to the best of my knowledge, starts as a stock Pressure Plate. JWT has changed the geometry of the "fingers" of the pressure plate so that clutch pedal effort is still very light and street-able, yet the "break-over" point has been changed which allows for a harder and farther throw resulting in an increased clamping force. In my opinion, the JWT Pressure Plate and stock clutch combo is plenty for normally aspirated SR20DEs. On a really good day with a fresh clutch and a near stock car I could get a third gear chirp - of course that was on stock rims and tires!
When my 5th gear finally went the way of the dinosaur I had the opportunity to replace the flywheel with the new Stillen unit. In September of '97 it had just become available and since the tranny was already going to be down it seemed the opportune time to go for this add-on. Though the pics were taken with a cheap disposable camera, you can see it is a great piece. Ordered though Adam at Stillen, the list price at the time was a $595 though $425 was the price when it shipped. The lightened flywheel does not have the weight and inertia of the stock flywheel. This is apparent getting out of first gear. People who have never driven my car tend to bog the motor or stall the car. You need a couple more 100 RPMs to keep the car from bogging, but it takes only a couple of days to master. The benefit is that the car seems to spin up quicker and second gear chirps with 205/45/16s is not a problem. The set-up seems to be holding up well at the track. Slicks come in the fall so we will see!
Side angle shot of JWT Pressure plate.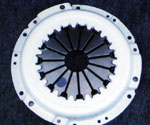 JWT Pressure Plate from the top.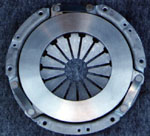 JWT Pressure Plate (friction side).



Stillen Flywheel, edge-on shot.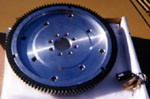 Stillen Flywheel (engine side).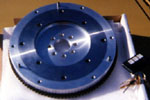 Stillen Flywheel (friction side).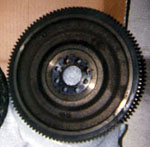 The stock flywheel (engine side).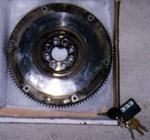 The stock flywheel (friction side).