Headers
---
Written by Merlin Johnson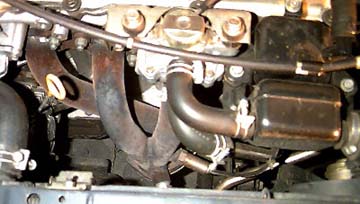 These are the Hotshot prototype headers I have had on the car for over a year now. They are untreated, unpainted, uncoated, and are still in excellent shape for a prototype. Hotshot did an excellent job with the welds and choosing the correct thickness for pipes and plates, they have not leaked since we got the bugs out and have not cracked. You can see two of the three fittings, the O2 sensor and the Aux air fitting. On 94+ engines the Aux air fitting would no longer be needed.
Last I heard (08/28/94) Stillen was about a month away from getting the headers out. They were deciding whether or not to go through smog as it would further delay their production. They claim a 13 to 16 hp increase, but I have heard that they have not officially put the headers through the dyno, and they might be a little too big in diameter which might hurt bottom end (this car needs all it can get down low). The headers will be two pieces and have the proper flex joints for maximum durability.
There are another set of headers out from EuroX (Euro Classix), but Jim Wolf checked them out and said they are too big in diameter. They are definitely race only though, as there is no flex joint. You must also remove the heat shield, and relocate the oxygen sensor further down the header. Stillen will sell you this header for race only purposes.
The Stillen headers are going for $360 and $450 with a ceramic coating. (if they ever come out)
I think the race headers go for $300
(The headers from EuroX are a first generation design stolen from Paulas they rattle when cold and are not a good fit. Paulas has a second generation header that is supposed to be much better than before, also available in stainless, should go for around $450 and claims about 15-25% hp. Stillen STILL has not got their header ready, they say they have the upper portion ready and are waiting for the flex pipe)
(5/15/95) Those EuroX headers rattle so much as to destroy the O2 sensor!
(3/27/95) I have recently found a company to make headers. They are three piece, have all sensor ports and can be had with a ball joint or with a flex pipe. I am working on a deal with them to see if they will give the SE-R mailing list people a discount on price. I looked a finished models of this header and it is MUCH better than anything has been out before, very solid build, good welds.
(5/15/95) I have been working with Hotshot Systems to finalize headers for our SE-R. They work, both Jim Wolf and Clark have checked out the headers and have taken readings with a Consult, they were both happy with the results, as am I. The header helps in the bottom by getting your revs up quicker and then coming on strong at the 4500-5000+ rpm range, the 70-90 3rd gear jam is very quick now. I will be working on a 2 1/4" exhaust system to see if I can get a little more up top....where I go hunting for GS-R's :)
As of right now the headers are waiting for a few part (nice fittings, ceramic coating) before shipping.
(6/1/95) I will be going back up to HSS for one last header modification to see if we can eliminate the leaking between the primary and collector pipe at the flange. The proposed mod should take care of this once and for all.
(6/25/95) Hotshot now has a complete exhaust system almost ready for sale. They currently have a muffler that is complete and ready for sale. The full exhaust system will be headers and cat back exhaust pipe, all mandrel bent. Call for pricing and availability. Right now I am going to run the last modification done to the headers to prevent leakage for a few days and see what happens, after that the headers will be nailed down and made mass produced. So far they ain't leaking...
Comes on strong from 2000rpm to 4000rpm, very good torque there, and comes on again hard at 5000rpm and slowly tapers off till 7500rpm.
These are the new and improved headers from Hotshot. They are ceramic coated, have the now required flex joint. The upper EGR fitting is also redesigned for an easier fit. The secondarys are a little shorter and use 2" pipe, this has produced better torque. Right now they are the best headers for the SR20DE. Get em and go hunting.
---