Nismo B13 Airdam
---
A special thanks to Steve Richardson from Courtesy Nissan for providing us this photo.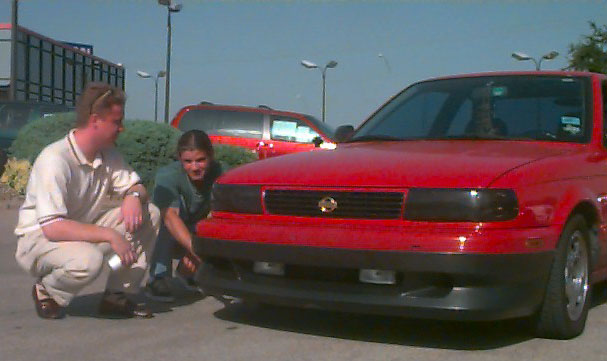 +
Pictured is Jeff Naeyaert's 94 Sentra SE-R.

This is a Nismo Airdam which is made of some soft of semi-flexible resin material. It attaches to your existing bumper skin. It comes with some thick double-sided tape that goes around the the front trim on the bumper. You may also have to screw it to the inside of the fenders as well. You also have to remove the fog lights and remount them through the new spoiler. It retails for about $180.

Comments by Jeff Naeyaert
That's my '94 in the picture and it is lowered (eibach pros). I am on the side holding it on the car because it wouldn't fit on without foglamp removal and replacement. It hangs about 2 inches lower than the dam of the '94 and sticks out farther in front, I think its a little too geometric shaped.

Shell Black's 91 Sentra SE-R with the Nismo Airdam painted black.
---